The Story Behind the Book
In 2016, I traveled to visit my mom in Ecuador, where she had settled for a new chapter in her life. She was teaching English at the time and, in typical Judy fashion, took it upon herself to write her own alphabet book to engage her students. She really wanted to get the book edited, illustrated, and printed. I tried to help her, but the project never came to fruition.
Sadly, Teacher Judy passed away from cancer in 2019, and as I made my way to Ecuador to seek closure, I remembered my mother's book that she did not complete.
I knew immediately that I had to finish it for her.
Upon returning to the United States, I called my cousin, Ryan Scott Tandy, and asked for his help to create a children's book inspired by his aunt. He accepted my offer and was with me every step of the way, for which myself, and the quality of the book, are grateful.
When you open "Journey from A to Z," know that it has captured my mother's essence—a fiercely independent woman who was caring, funny, and energetic. And when you read this book to children, know that you are sharing that magic of Teacher Judy with them.
For that, I am forever thankful.
- Alex Tandy (co-author and son of Teacher Judy)
Who Was Teacher Judy?
Teacher Judy, was born Judy Lynn Ohlrogge. She grew up in a small town in Wisconsin with an adventurous spirit and a desire for experiencing life to its fullest.
In her early 20s, she bought her first pair of skis and was so excited that she slept with them in her bed on that first night. Sometime around making that purchase, she moved to Minnesota, where she began working as a ski instructor. 
Life's windy road brought her to meeting her first husband (my father). Together, they had two sons and moved throughout the U.S. While in Houston, Texas, Judy became involved with the Junior League. It was there that she found an outlet for her boundless energy and big heart -- always doing what she could to contribute and make her community better.
Later, Judy would move to Venezuela, and eventually Trinidad & Tobago. There, should would become involved with the school system and Parent Teacher Organization. But even with moves to Venezuela and Trinidad, more adventure awaited Teacher Judy. 
In the early 2000's, Judy remarried and began working as a flight attendant for American Airlines, and she was based out of New York City. Her friendly personality, attention to detail, and personal quest for service perfection were received well, and it was not long before she was assigned to work with passengers in first class. She remarked fondly of the time, especially being able to serve and talk to Johnny Depp. 
After a few years of working as a flight attendant and living in NYC, she and her husband relocated to Ecuador where they lived for 15+ years. It was there that Judy started to teach English -- at first to adults, and then to children at the nearby school (which happened to be just across the street from her home).
While teaching English, she wrote her own manuscript for a children's alphabet book,  which is now called, "Journey from A to Z with Teacher Judy". During her lifetime, she was not able to see the book created, but as more students, teachers, and parents encounter this work, her impact and contributions to various communities continues. 
Today, Teacher Judy rests in Quito, Ecuador. But she continues to be with all of us through this work. 
The Indiegogo Campaign 
A few months into 2020, I decided that I should try to run and Indiegogo campaign to help support funding the book and getting other people involved. Running a crowdfunding campaign is a challenge in itself, and it was a success! Over 185 people from around the world contributed to the creation of the book. I decided that the "First Edition" would be called the "Sustainers' Edition", which can be seen in the copyright page near the front of the book. 
You can check out the campaign here if you are curious.
And here's the video that was used for the Indiegogo Campaign that tells the story and shows some of the early artwork and phases of the project. 
Creating the Book
Self publishing a quality book is difficult. It took about 1.5 years for the work to be completed. I also wrote a quite detailed post on the many pieces of the process here, if you are interested! However, here are some highlights from the experience.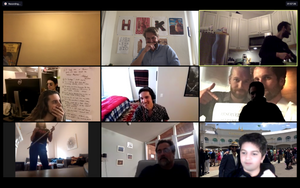 Grab your copy today!